Special Needs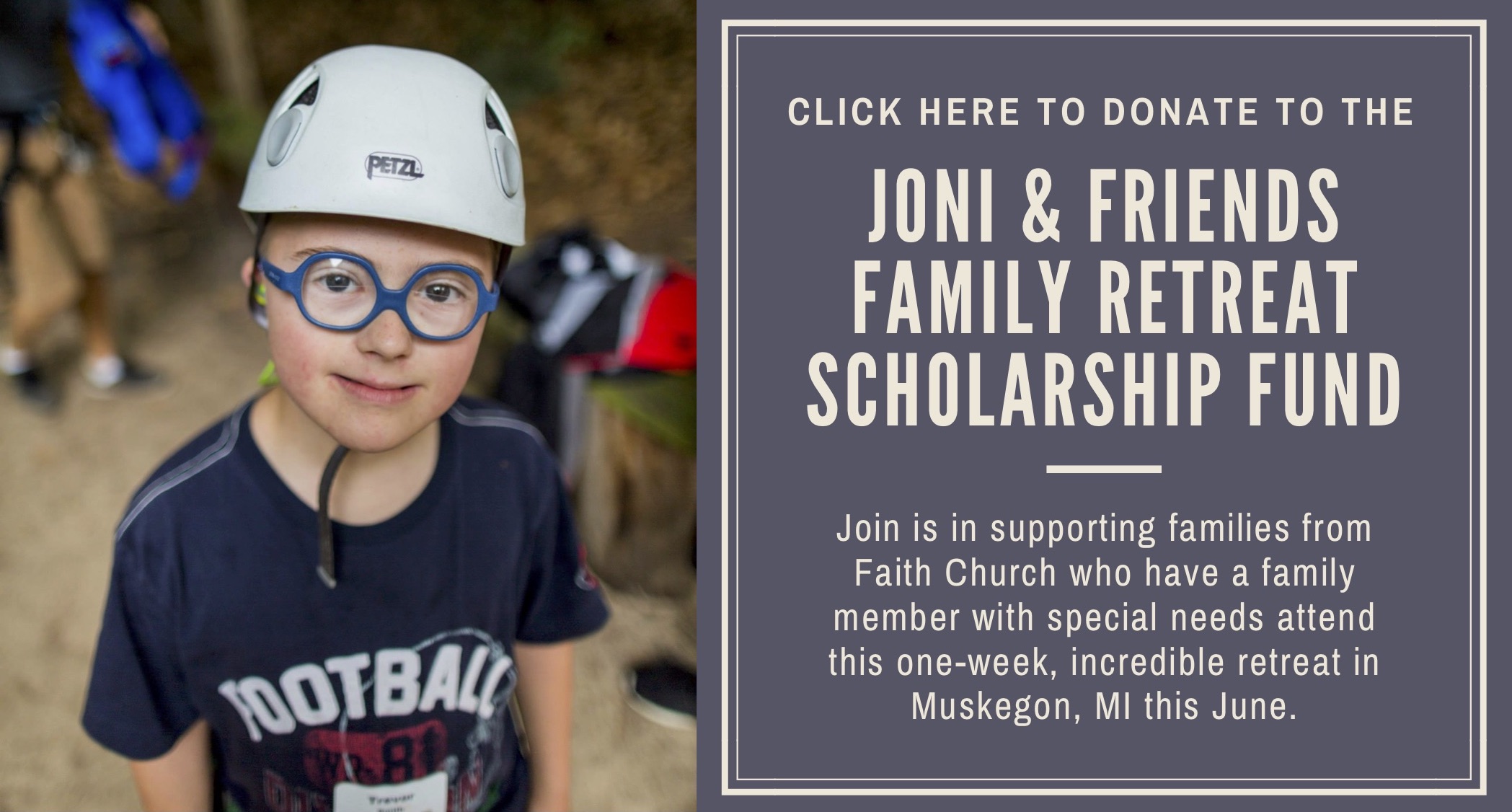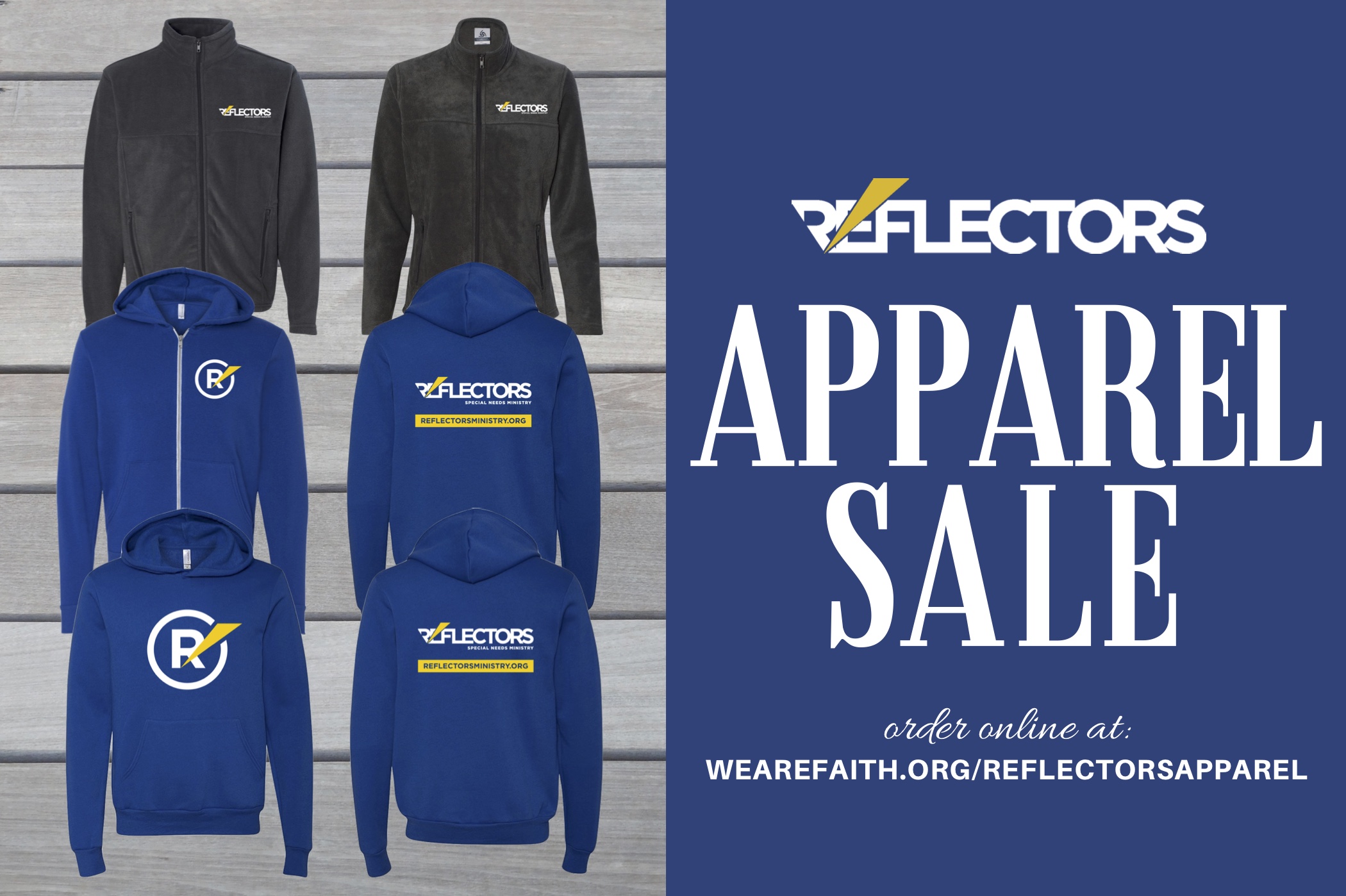 Upcoming Events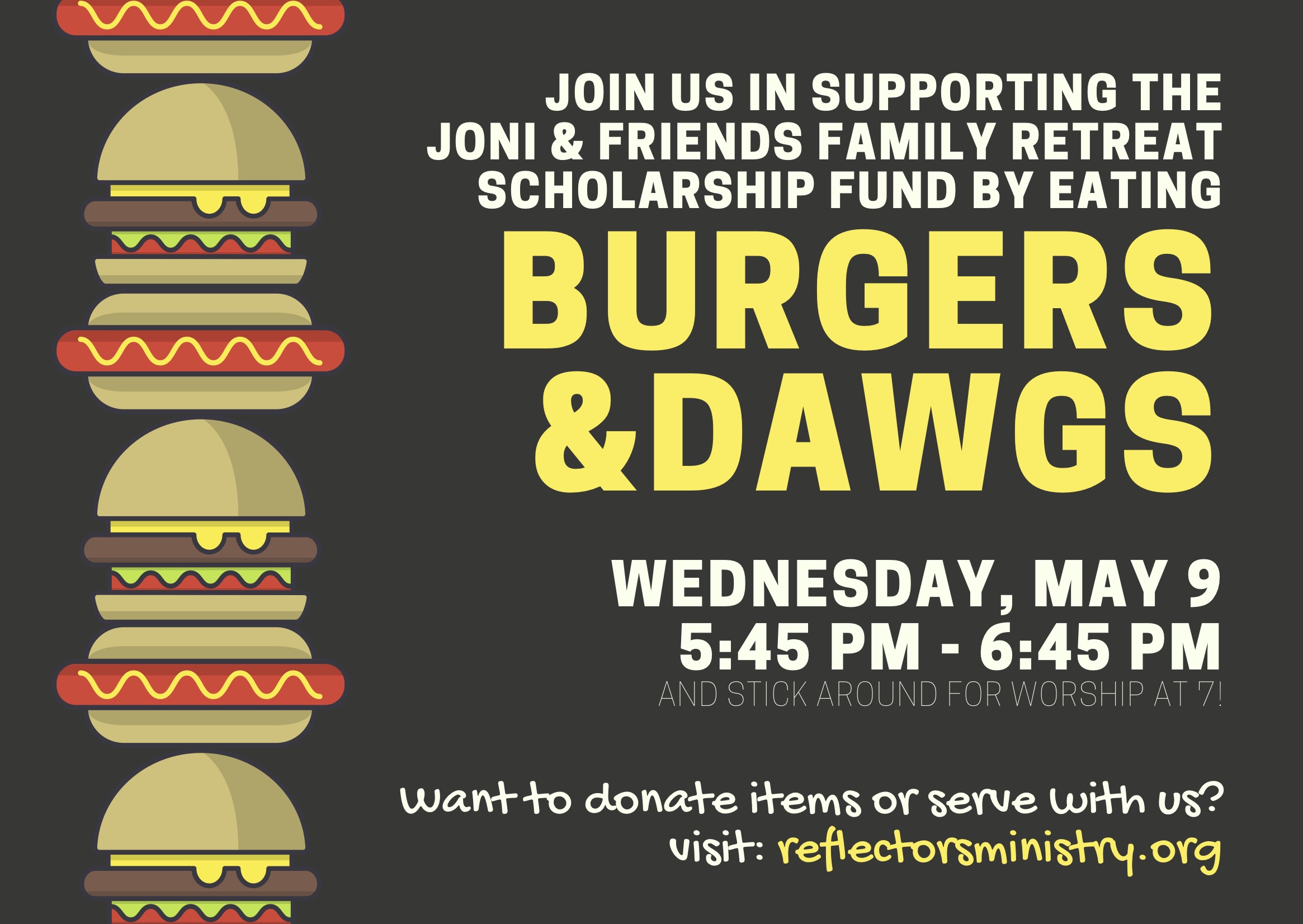 "Burgers and Dawgs" Night: A Fundraiser for the JAF Family Retreat Scholarship Fund
Wednesday, May 9th, 2018 // 5:45 pm // @ Faith Dyer
Come join us for a special night of food and fundraising at Faith Dyer! Last year we went Italian, but this year we're going all-American. All proceeds from the night will help families and volunteers attend the Joni & Friends Family Retreat in Muskegon, MI this coming June. After the meal, Reflectors participants will also be leading the opening worship time of the 7pm service. If you'd like to help with this night (serving or donating items), please sign up using the link below. Or, if you'd like to contribute directly to the scholarship fund, click the link below that!
PARTICIPANT & VOLUNTEER SIGN-UP
or MAKE A DIRECT CONTRIBUTION TO THE SCHOLARSHIP FUND
Weekend Worship
For all participants, we ask that you please fill out an Individualized Worship Plan (IWP) to help us better know your child/family-member/participant and make sure their Sunday experience is as awesome as possible.
Faith-Dyer Reflectors Worship (Sundays @ 11 am)
We have multiple classrooms that function similar to a special education classroom, but also promote inclusive activities. Volunteers are trained and have had a background check. Typical elements include: modified Bible lessons, crafts, games, singing, and other interactive activities.
Orange Room

- for children ages 3-12

Gold Room

- for children ages 3-12

(more 1-to-1 volunteer-to-participant ratio)
Mini-Church Room

- for adults, ages 18 and up

Blue Room

- for adults, ages 18 and up

(more 1-to-1 volunteer-to-participant ratio)
Green Room

- for teens, 6th grade thru age 18



Purple Room - for teens, 6th grade thru age 18 (more 1-to-1 volunteer-to-participant ratio)
Faith-Cedar Lake Reflectors Worship
An accommodated worship experience offered every Sunday at the 11 am service for kids and teens with special needs. Typical elements include: a modified Bible lesson, prayer, memory verse, singing, and other interactive activities.
Faith-Highland 'Access Worship'
A new worship experience for all ages and abilities. Click here for more information.


If you have any specific requests or accommodations for weekend or mid-week ministries at any campus beyond what is listed below, contact Vinnie Adams.

MIDWEEK GROUPS
"Wednesdays"
2nd & 4th Wednesdays during the school year | 6 pm - 8 pm | Faith Dyer
Wednesdays is a midweek connection, discipleship, and worship program for Faith's Dyer campus. In an effort to open this time to all families, here are the supports Reflectors offers:
For Reflectors Kids: On 2nd and 4th Wednesdays, Reflectors volunteers will be available to be with Reflectors kids in the "Orange Room" (downstairs) from 6:00 pm to 8:00 pm. Drop-off begins at 5:50 pm. RSVP required (see below).
For Reflectors Teens and Adults: On 2nd and 4th Wednesdays, there will be a table in "The Commons" during the mealtime for Reflectors teens and adults to gather with a small group of volunteers, eat, share about the week, and look at a short scripture to apply to the week ahead. This will be during the 6:00 pm to 7:00 pm hour. RSVP required.
For Parents: On 2nd and 4th Wednesdays, there will be 2 dedicated tables to Reflectors parents: Chuck Gist will host a table for dads, and Margaret Gist will host a table for moms. There won't be a heavy agenda; but rather a space to connect with each other, share (the good's and the bad's), and offer support to one another.
While programming continues for the kids downstairs during the 7pm - 8pm worship hour, it will be up to the parents of the kids how to spend that hour (in worship, connecting with each other, etc.).
Parents of teens and adults, the team facilitating the table (small group) will disperse at 7:00, but these families are welcome to stay for the 7:00 worship experience.
Meal Costs: Meal costs will be fully covered by Reflectors for parents, participants, and volunteers. You will just need a blue ticket, which you can pick up from a Reflectors staff or from Chuck or Margaret.
RSVP Forms: *due by midnight the Monday evening (Tuesday morning) before
MAY 9 (Fundraiser Night + Leading Worship)
MAY 23
Friendship Ministry
Friendship Club is a group for adults and teens with intellectual disabilities. It's a great time of fellowship, Bible study, prayer, music, and snacks.
Faith-Highland (8910 Grace St.) | Contact: Amy Boshears
HIGHLAND FRIENDSHIP CLUB 2017-18 CALENDAR

Fresh Hope
Fresh Hope is a support group for individuals with a mental health challenge and their loved ones.
Wednesdays | 7:00 pm - 8:30 pm | Faith-Highland (8910 Grace St.)
Youth Ministry Support

We love facilitating inclusion within the youth ministries at Faith Church! To find out more about Faith Students, you can visit their page here. If you'd like to learn more about how to get your middle school or high school student plugged into youth group, please contact Vinnie Adams.


Resources
Lending Library (view PDF here) If you would like to check out any of these books from the Dyer office, please email
Reflectors Training Handbook
Click Here to View (PDF)

Monthly Training Videos
Video 1
Video 2
Video 3
Video 4
Video 5
Behavior Training Pt. 1 (2/6/16)
Behavior Training Pt. 2 (2/6/16)
PDF Handout for Behavior Training
In-House VIDEOS

Psalm 139 Video
The "I Am" Confessions
Apostles' Creed Video (original)
Apostles' Creed Video (updated)
The 5 Stages Overview (updated)
Irresistible Church
Poskin Family Testimony
Fresh Hope at Faith Church
Mike & Jared Testimony from "Wednesdays"
The 5 Stages of Disability Attitudes (original)
Doug Mazza Testimony at Faith Church (11/11/12)
The Great Banquet Recap (5/1/15)
Global Partner Prayer Cards

Heshima (Kenya)
Tesoros de Dios (Nicaragua)
Love into Action (Palestine)
God's Children(Haiti)
Equip India
Christian Horizons (Canada)


parents
Participant Intake Form (IWP)
We want to get to know each Reflectors Ministry Participant as best we can, and the information on this forms helps us do that. All information will remain confidential and will only be shared with Reflectors Ministry staff and applicable volunteers. *This is a requirement for all regularly attending participants

Parent Policies


Serve
There are many opportunities to serve in the Reflectors Ministry across the FC campuses.
Please click here for information and next steps!


Contact
Ministry Director: Vinnie Adams
E. // P. (219) 864-0300 x197
Dyer Campus Kids Program Director: Pam VanderMeer
E. // P. (219) 864-0300 x145
Dyer Campus Teen & Adult Program Director: Amy Boshears
E. // P. (219) 864-0300 x128
Cedar Lake Campus Program Director: Lexie Cupples
E. // P. (219) 864-0300 x196
Ministry Administrative Assistant: Lexie Cupples
E. // P. (219) 864-0300 x196
Ministry Behavior Coordinator: Nicole Price
E. // P. (219) 864-0300 x106